3D animation is one of the notable disciplines of contemporary art.
This not only requires knowledge about the 3D models used but also, the 3D animation technician needs to understand the composition of the captures and the peculiarities of the game engine used or the rendering tools.
In this article, we will be addressing some fabulous alternatives to Cinema 4D.
Cinema 4D animations have been widely used in the development of games and animated shorts and programs, so we will be giving a small look at the software you can use for these purposes.
If you have no access to the Cinema 4D software, here are 13 Cinema 4D alternatives for your 3D animations.
1. 3Ds Max
Autodesk 3Ds Max is one of the best options available today in the market. It is especially suitable for the creation of video games, although it also works perfectly with movies, has countless features and offers a lot of extra plugins.
This software simulates more materials than any other competitor, including liquid, cloth, leather, skin, hair and muscle. It stands out in the creation of content for movies, but it also works very well for television and the creation of games.
The only drawback is that it is more complicated to use than others and requires more effort and time to master it.
2. Softimage 2014
Softimage is ideal for professional use in television, film and video game development. The unique features and tools make it a worthy complement to any animation studio.
Softimage was king of 3D animation software for a long time, and although its popularity has dropped a bit and its competitors have gained positions, it is still one of the best options available for modelers and animators.
This software is perfect for television, which requires fast content production and has less budget than movies. Softimage 2014  is a more accessible alternative than other software packages since it is somewhat easier to use and its price is cheaper.
This program is easier to learn than most competitors, but still has the necessary functions for professional use. The large set of tools and accessibility make it especially relevant for graphic artists who have less familiarity with traditional 3D tools
3. Blender
Anyone who wants to get a taste of the exciting world of 3D animation can do so impressively with this freeware program. Blender is a 3D animation program for creating the animation on Windows and Mac.
From the creation of the model, the animation, editing of the material and audio, DV editing, etc. Blender delivers a series of solutions to create the animation.
Blender has multi-interfaces for a variety of tasks. This animation program is designed for media workers and artists, and can be visualized. At the same time, you can use it to create radio and high-quality movies.
There is a 3D internal game engine, which makes it possible to create 3D interactive animation content for playback. Blender allows modeling and texturing of 3D mesh models.
Also, character animations with the help of keyframes and skeleton systems allow the program. In addition, you can simulate fire, smoke, particles, water, textiles, and solids with the included physics simulation tools.
For rendering, i.e., calculating the finished images or animations, the program provides two rendering engines.
In addition to the old "Blender Internal" engine, the program also includes the modern Cycles engine, with the photorealistic results are possible. Even external renderers can be integrated into Blender — so is currently working on an integration of Pixar's RenderMan.
The functionality of Blender can be greatly expanded with add-ons and scripts. An overview of interesting add-ons can be found in the Blender Wiki.
4. Maya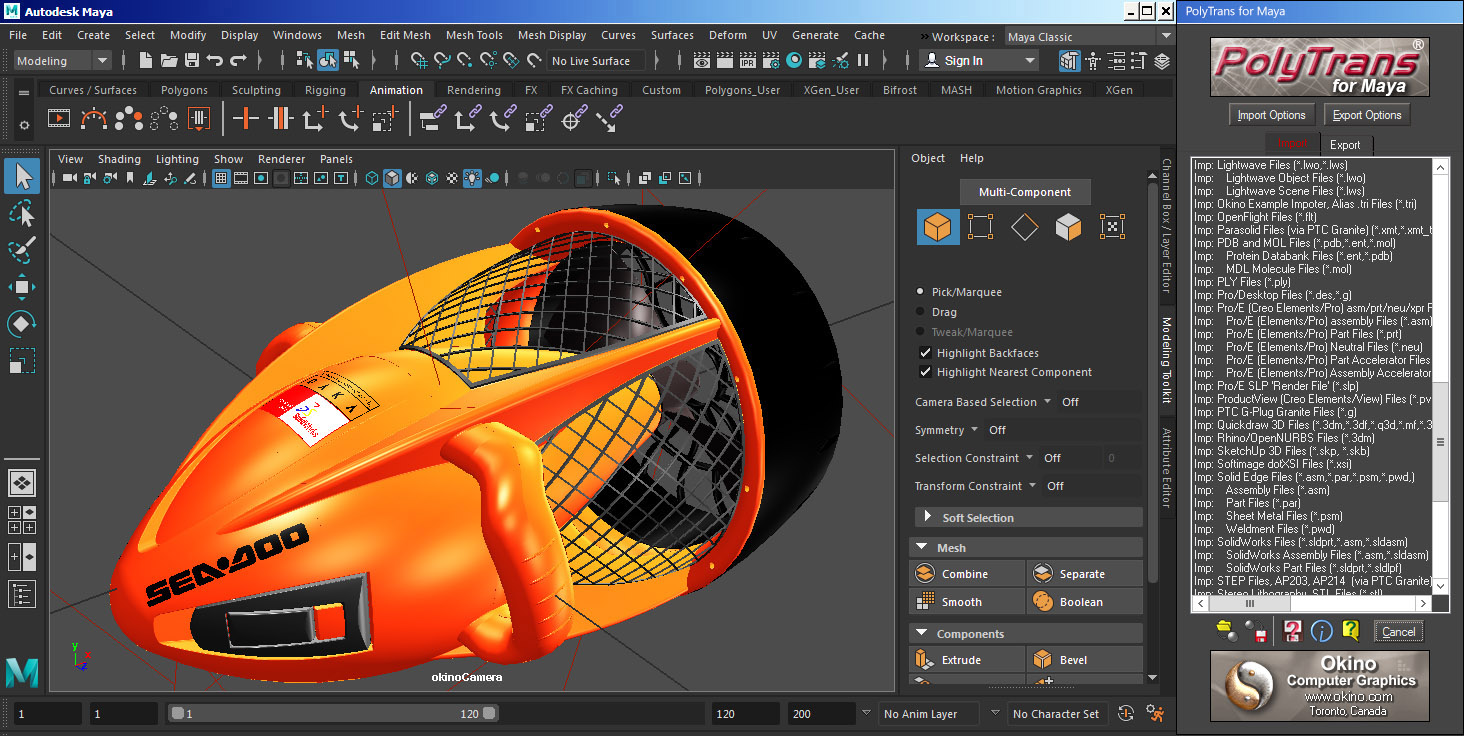 Maya is a professional 3D software that is as common in the film and television industry as it is in computer game developer studios or architecture firms.
With the demo offered, the familiar program can also be tried out at home. For private use, the free alternative Blender in many cases, however, suffice.
The 3D animation software "Autodesk Maya" offers a wide range of functions for all sorts of creative projects. The software combines powerful tools for 3D animation such as modeling, simulation, rendering and compositing.
You can use them to create short films such as advertising clips or animated films, but also render images of landscapes, living beings and buildings. The training period is for beginners, however, relatively long, which is due to the range of functions.
The manufacturer has copied the business model of Adobe's Creative Cloud.
5. 3D Crafter
3D Crafter is a current tool for 3D modeling and animation creation. You can sculpt three-dimensional models using the intuitive drawing method. With the mold you are able to shape models.
This mold contains deformation, sculpture and creation of the 3D-form. Creating the animation scene is as easy as locating the shape in the scene. This 3D Crafter program can guarantee that the generated animation can operate stably.
Your animation can be viewed or your innovation idea can be shared by saving your animated videos as AVI. The standard version of 3D Crafter is a full-featured program that can be delivered for free. But the extra features are also accessible to game development or designers.
With the free software 3D Crafter (previously known as "3D Canvas") you create three-dimensional models and real-time animations.
With the 3D Crafter freeware tool you can create complex models using simple 3D templates using drag & drop. Thanks to the clear user interface, even beginners will find their way quickly.
In 3D Crafter, you can use templates from the Internet for your animation or draw your own models. The finished animation can be saved as AVI video.
6. After Effects CS6
Adobe After Effects CS6 sets new standards for motion graphics and special effects in the video. After Effects CS6 is the industry standard for animation and compositing.
Adobe's popular effect, graphics, and animation software come with higher-performance version CS6 on 64-bit systems. This provides better support for multicore and multiprocessor systems and improves the speed and precision of OpenGL technology.
Adobe After Effects CC is a graphics processing software developed by Adobe that is suitable for the design and video impact agencies, including the television, animation production company, multimedia studio.
Adobe After Effects CC can help you create efficient and precise animated visual effects. Interacting with other Adobe software, you can create hundreds of 2D or 3D animations and preset effects, giving your movies, videos, and DVDs a fresh look.
With After Effects CS6 you can enrich your videos with exciting effects and impressive animations. In the trial version offered, some third-party plug-ins are not included.
Mocha and Mocha Shape from Imagineer Systems, Foundry Keylight, CycoreFX, Synthetic Aperture Color Finesse LE and fnord ProEXR. After Effects CS6 requires a 64-bit operating system.
Anyone who chooses to purchase the full version of After Effects CS6 after the trial ends can upgrade from the trial version and reload the necessary components as soon as a valid serial number is entered.
7. Houdini
Houdini is famous for its high-quality graphics. It offers advanced functions of modeling, texturing, rigging and animation of 3D models. You can create entire worlds of 3D content, or you can merge 3D creations with real-world images.
It is often included in large-scale film projects that require contributions from multiple applications, as it is an ideal tool to synthesize content produced in other programs.
Houdini is also very flexible, allows you to create almost anything you can imagine, stands out above all in the creation of clouds and gases.
8. iClone 5       
iClone 5 is a state-of-the-art digital 3D animation program, featuring powerful actor system, surround materials, visual effects, and drag editable effects.
A series of professional editing features make iClone a professional animation program. It also provides visualized preview interface so you can create your desired animated films.
Main functions:
Create a 3D project

Automatically generated facial animation

Edit facial expressions

Add special effect to the animated video

Edit timeline at the scene
iClone, like other similar 3D animation programs, includes a motion editor that allows you to adopt the motion capture files to the character, join them without problems and correct them manually.
In addition, it includes a complete light management system and a physics engine. The tissues simulated with this program can be associated with an object and reused in other scenes.
With iClone you will not have to resort to other 3D animation programs since it allows you to render quality animations. Among the multiple options of the camera, you can use a 360º panoramic lens.
9. Synfig Studio
Synfig Studio is an open source free animation software that supports Windows, Linux, Mac OS X. With this powerful vector animation program, you can use the minimum manpower and materials to create the animation with high quality.
In Synfig Studio 0.63.01, Synfig has released a "Dash" option to create advanced profiles, new labels and artist canvas. With this animation software, you can adjust the shadows, color. In addition, many special effects to the image plane can be used.
10. Pivot Animator
Pivot animator is a horribly easy-to-use animation software that is used to create the stickman. With this Pivot animator program, you can voluntarily drag the base and create a new image.
Finally, export your desired format. Even if you are creating the animation for the first time, you can easily do it. Each line for creating the figure or the prop is a material that is in .stk format, the saved animation is .piv.
After setting, you can export GIF or AVI videos. It also lets you create your own GIF facial expressions.
11. Toon Boom Studio
Toon Boom Studio is a vector animation software that supports Windows and Mac. In Toon Boom Studio, the lens, light, the scene, 3D, etc. are at your disposal. In addition, you can quickly import the pictures, sound, animation file (SWF format).
After creating and exporting your animation as SWF, you can easily and conveniently watch your self-made animated movie.
Main features:
Draw with the various brushes and modeling tools

Plan a 3D scene

Synchronize lip

Synchronize the audio track with the animated video
12. Leopoly
Leopoly is an online application that can be used on PC or Mac as well as on the tablet, which proposes to model 3D objects and to paint them directly from the browser.
The application offers different tools to sculpt shapes from basic templates, create new shapes, or even simulate cubic creations.
All objects created by the community and shared in the library can be downloaded in STL or OBJ formats, or imported to Sketchfab, Thingiverse, Makerbot or PrintToPeer.
The platform also allows you to order prints at Sculpteo, 3D Hubs, or MakeXYZ.
13. Sketchup Make
Formerly known as "Google Sketchup", Sketchup Make is the free version of the 3D drawing suite now published by Trimble.
Specially designed for architectural drawings or interior design, Sketchup nevertheless adapts very well to all 3D modeling needs, whether for construction, carpentry, the design of industrial objects design, cinema, video game or 3D printing.
Extremely easy to handle thanks to its very intuitive interface that gives the impression of drawing in pencil (hence its name), Sketchup is much richer than it seems at first and offers many possibilities for design and edit 3D creatives.
Unlike Blender, Sketchup Make is primarily a modeling software and therefore does not allow the base to make photo-realistic 3D rendering or create complex animations.
On the other hand, it has hundreds of extensions to download, and Sketchup Make also offers a collection of 3D models created by the community, which can be imported into its own rendering projects.
Conclusion
Today we have presented 13 best free and paid animation programs to create the animation. Some of these are easy for animation lovers, but some are professional and suitable for the professional.
You can select and download a legal one according to your needs. We hope you can create your interesting and popular animation.